2 years ago, I went to Hanoi in Vietnam and discovered a French pastry, the Opera Cake. Since then, I've been HOOKED on it. If I go somewhere the Opera Cake has been lovingly created I'll happily sacrifice all courses to just eat plate after plate of these babies.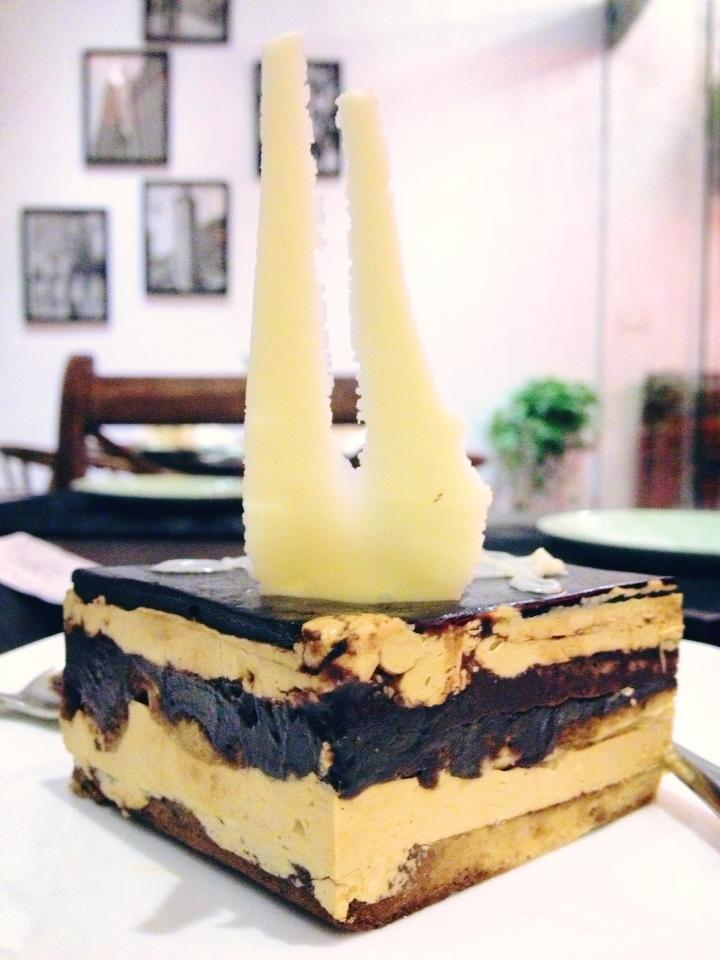 The Opera Cake is a gluten free, light almond cake layered with creme and chocolate ganache and often topped with even more chocolate.It's no wonder it's my favourite. Only attempt to make it at home if you are a weathered baker, technical genius, and incredibly patient (it takes ages to make!) because this one will get you.
In the absence of the right skills, I recreated a raw, flour-less version that can be whipped up in a jiffy. So you too can enjoy the sentiments of the Opera Cake until I learn and teach you how to make the real deal.
This version is however truly DIVINE and just as good as the real deal. Enjoy!
Servings: 10 or 12 small/medium squares
Preparation time: 45 minutes on and off
Setting time: 1.5 hours for each layer in the freezer, 4 hours in total
Ingredients:
Almond Layer
100g cashews soaked for at least 18 hours (throw the water once it's soaked)
4 tsp melted coconut oil (hold a stainless steel bowl high above a very low flame with oven mits to melt)
3 tsp Almond essence
1 1/4 cup cocout crème
2 tsp honey
Nut Layer
150g assorted nuts (I like macadamia, brazils, hazelnuts, almonds)
a generous sprinkling of dried cranberries
Chocolate Layer
80g coconut oil choc
2 heap tbsp raw cacao
1  generous heaped tbsp honey
Equipment:
a food processor
spatula
long loaf baking tin
Method:
1.Place all the nut layer ingredients in the food processor and whizz for at least a minute. Keep checking after that every 15 seconds. You want the nuts mix to be at a consistency where its binding together quite well and the natural oils are playing a bit part in that. You don't want the mix to be too crumbly, often if you don't process it enough it will be. So give it a while – the smaller pieces bind together more easily with the oils.
2.When you are happy with the mix, line the loaf tin with baking paper and pour all the nut mix in it. Make sure the baking paper is coming up and over the sides of the tin so it's easy to pull the whole thing out at the end. Use a spatula to press it firmly to line the bottom of the tin. The thickness of the ut mix is important, you want it to be at least half a centimeter to have the structure as a base. So really pack and press that layer in. It goes in the freezer for 1.5 hours.
3.Clean the food processor out. Add in the almond layer making sure to throw the cashew water o9ut before and give it a rinse. Blend the almond layer until that is a smooth paste. Don't over whip, it should only need 1.5 minutes at the most. Adjust the taste to your preference.
4.When you are happy with that mix take the tin out of the freezer and add the almond layer on top. Smooth it out so it is even. Put back in the freezer for 1.5 hours.
5.Clean the food processor out. Add in the final cacao layer. Give that a minute in the processor. You may need to stop it at intervals and bring it off the sides.
6.Finally put the final layer on the loaf tin and decorate with desiccated coconut, banana, pecans, whatever you like and put it back in the freezer for 1.5 hours.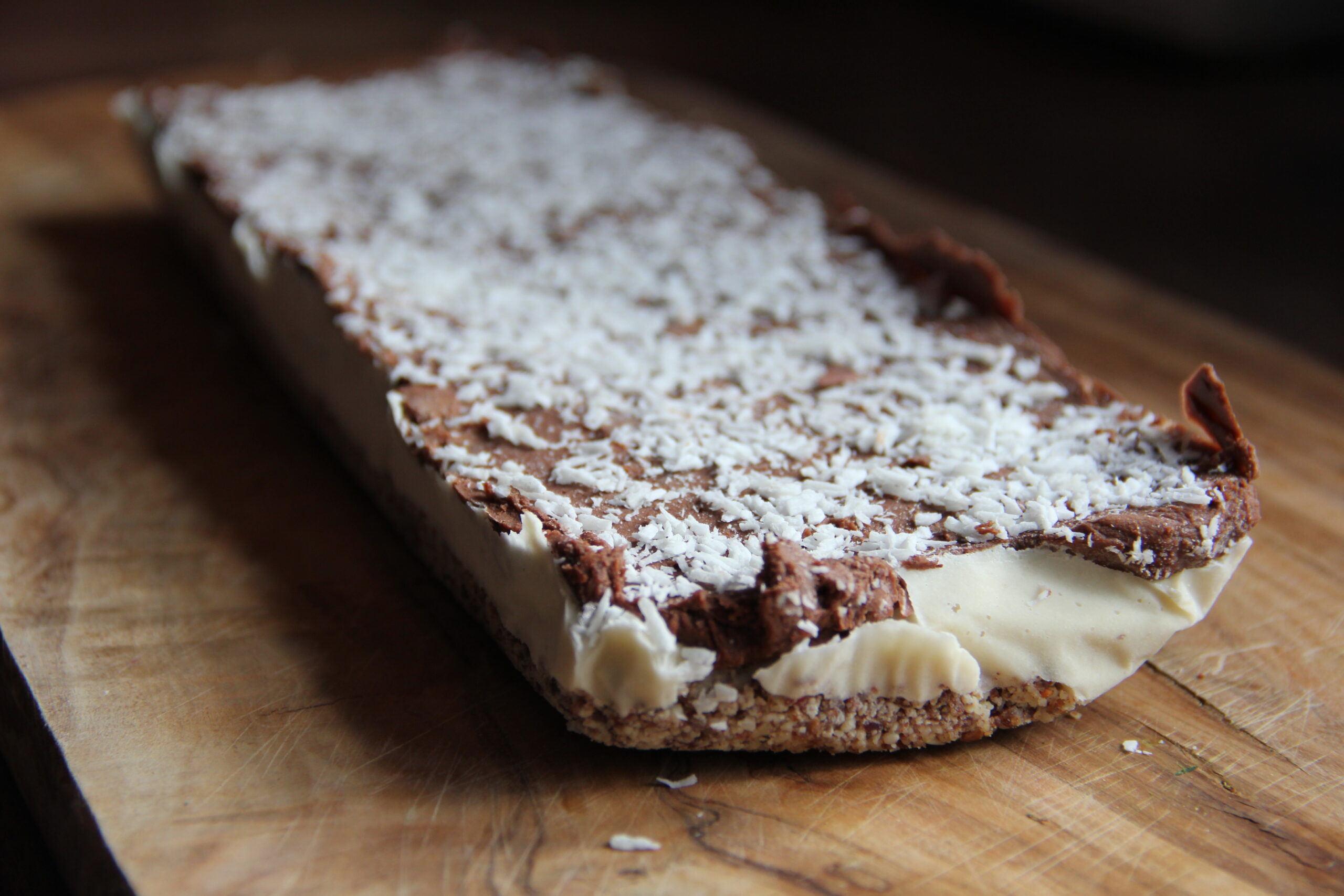 7.When the whole thing is done it will be frozen solid. You'll need to take it out at least 20 minutes before you want to cut and serve it. Even then you'll need to be patient and wait till it's JUST soft enough to cut.
8.You can keep the slices in the fride for ages and enjoy at your leisure!