Try my tasty, tangy, tried-and-tested tagine! It's delicious, packed full of nutrient dense veggies and slurpilicious sauce and best of all theres no frying involved!
I've developed this recipe over the years to make sure I get the taste just right but also that I use cooking methods that reduce free radicals that are created when we fry food.
I have been to Morocco a couple of times, mostly to Tangier, and I've tried some of the city's best tagines. My method is not exactly the traditional way of cooking tagine, as many Moroccans fry the ingredients in the tagine on the stove top before adding the liquids and putting in the over.
I've adapted the traditional recipe to create something more aligned with my preferred style of cooking – minimising oxidative stress and free radical damage in the body caused by unstable substances that enter the body, like overheated oils.
This method is so simple – it takes no time to prepare. It needs to be cooked well, so that the veggies are melting in your mouth… but if you don't have enough time, you can do the quick version instead (see below).
If you have tried this then please leave your comments below! Love to you x
Serves: 3-4
Preparation time: 20 minutes
Cooking time: 45 – 60 minutes depending on temperature of oven
Ingredients:
1 1/2 large white onions – halved and cut into large chunky slices
6 small carrots – halved down the middle
1 small aubergine – cubed, roughly 2 – 3 cm width
1 large courgette – cubed, roughly 2 – 3 cm width
200g – 300 g cooked or dried chickpeas and a variety of beans (from dried or the can) – if using dried chickpeas or beans – soak overnight and for at least 18 hours
Small handful raisins
4 – 6 dates (depending on preference) – halved down the middle
1/2 tsp heaped ground cumin or garam masala (I use mother-in-law's homemade stuff)
1/2 tsp heaped turmeric
1/2 tsp heaped paprika
1/2 tsp heaped ground coriander (don't worry if you don't have this)
pinch of himalayan pink salt
generous pinch of ground black pepper
3 cinnamon sticks – snapped in half down the middle or 1/3 level tsp ground cinnamon
3 cloves garlic
1 litre strong vegetable stock
300g blanched and mashed tomatoes or canned tomatoes
Optional: kalamata or green olives
Equipment: a large tagine or oven proof pot with a lid – if you only have a small tagine, then halve the ingredients and make a dish that serves 2
Method:
1. Prepare all the veggies one at a time and start to arrange them in the tagine, with the veggies that take longer to cook at the bottom.
2. Add in the dried soaked beans and chickpeas if you are using them.
3. Sprinkle the raisins and dates over the veggies. You can add the olives too if you like the taste of olives or want a slightly sharper taste to cut through the taste of the dish.
4. Add the tomatoes to top of the mix.
5. Prepare the vegetable stock to be strong flavoured. Add in the dried ingredients to the stock including the salt and pepper. If your stock already has salt, then don't add more. Mix thoroughly.
6. Pour the stock-spice mixture onto the vegetables.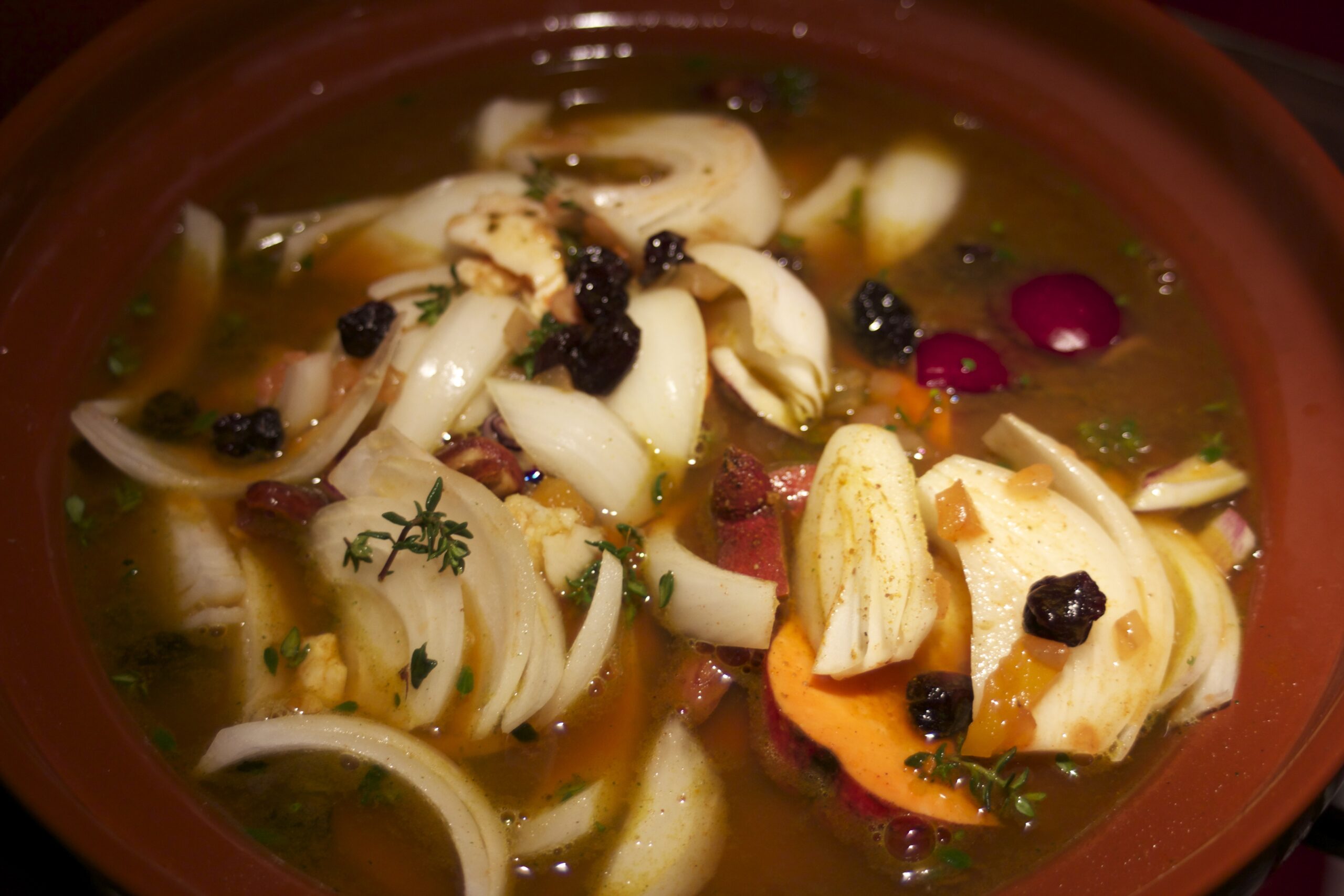 6. Put on the tagine lid and put it in the oven for 45 – 60 minutes at 175 degrees celsius. Check after 40 minutes – if vegetables are still uncooked, judge how much longer to leave the pot cooking.
7. Add in the cooked chickpeas and beans towards the end of the cooking, maybe 10 – 15 minutes before the dish is finished to warm them through but not overcook them.
7. For the quick version, steam all the veggies except the olives until al dente (undercooked with a little bite) then go from step 2. Put in the oven at 175 degrees celsius and cook for 25 – 25 minutes.
8. For the slow cook version, to keep as much of the nutrients intact, use your judgement – maybe 100 degrees for a few hours depending on your oven. You'll have to keep checking to make sure your tagine is cooking well.
This is beautiful served with quinoa, thick sourdough bread or brown rice. It can also be accompanied by a shredded salad of lettuce, onion, cucumber, corriander and pomegranite with a tangy olive oil and lemon dressing. Hummus… babaganoush… butternut squash and cinnamon mash… there are just too many more accompaniments to mention that go well with this dish, so that means many more blog possibilities for me!
Enjoy!