Another quick and easy lunch or dinner recipe from me that can be knocked up in a jiffy! I love using all the different tastes – and its certainly great from an Ayurvedic perspective… Here we have sour, sweet, and bitter and salty altogether!
This is a dish I cook quite often for lunch becuase I can use up veggies, its super quick and fresh and uses one of my favourite tastes at the moment – the fermented plum. It sounds weird but trust me – added to story-fries, broths, rice, quinoa, veggies and so much more – its truly divine! A sharp and sour flavour on its own but mellows out once mixed with other things.
This meal will support detoxification (green veggies – add in more like spinach  to increase the detoxing powers!), hormones (broccoli detoxifies spent hormones) and digestion (fermented plum paste will feed your good bacteria).
Servings: 2 plus
Preparation time: 10 minutes
Cooking time: 15 minutes
Ingredients:
oudourless coconut oil
veggie stock – 1 per 2 people's serving
rice mirin (sweet rice wine – optional)
ume boshi – fermented plum paste – or fresh lemon – 3 – 5 tbsp
salt and pepper
garlic – 1 or 2 cloves
ginger – 1 or 2 inches
coriander powder OR – lemongrass, 5 spice – whatever herbs you fancy really
broccoli
mushrooms
other green veggies
filtered water – 250 ml per person
Garnish – chopped coriander
Prepare all the veggies.
2. Add a bit of coconut oil to a saucepan and lightly stir fry the veggies, rice mirin (optional), ginger, coriander powder, 5 spice, lemongrass and any other herbs and spices you wish.
3. Prepare the veggie stock according to how many people you are serving.
3. After you can smell the veggies start to cook and aromas start to touch your nose, give it another 5 minutes and add in 500 ml of veggie stock (thats two servings) or more depending on your servings. Also add in mashed garlic at this time. Allow the whole broth to simmer for a further 5 mins or until the veggies are tender, al dente or however you like them.
4. Add in 1 level tsp ume boshi per 2 servings at the end and stir. If using lemon, add a few tablespoons and taste, add more if you wish. Serve with chopsticks and a big spoon.
5. Garnish with chopped coriander (optional).
Enjoy!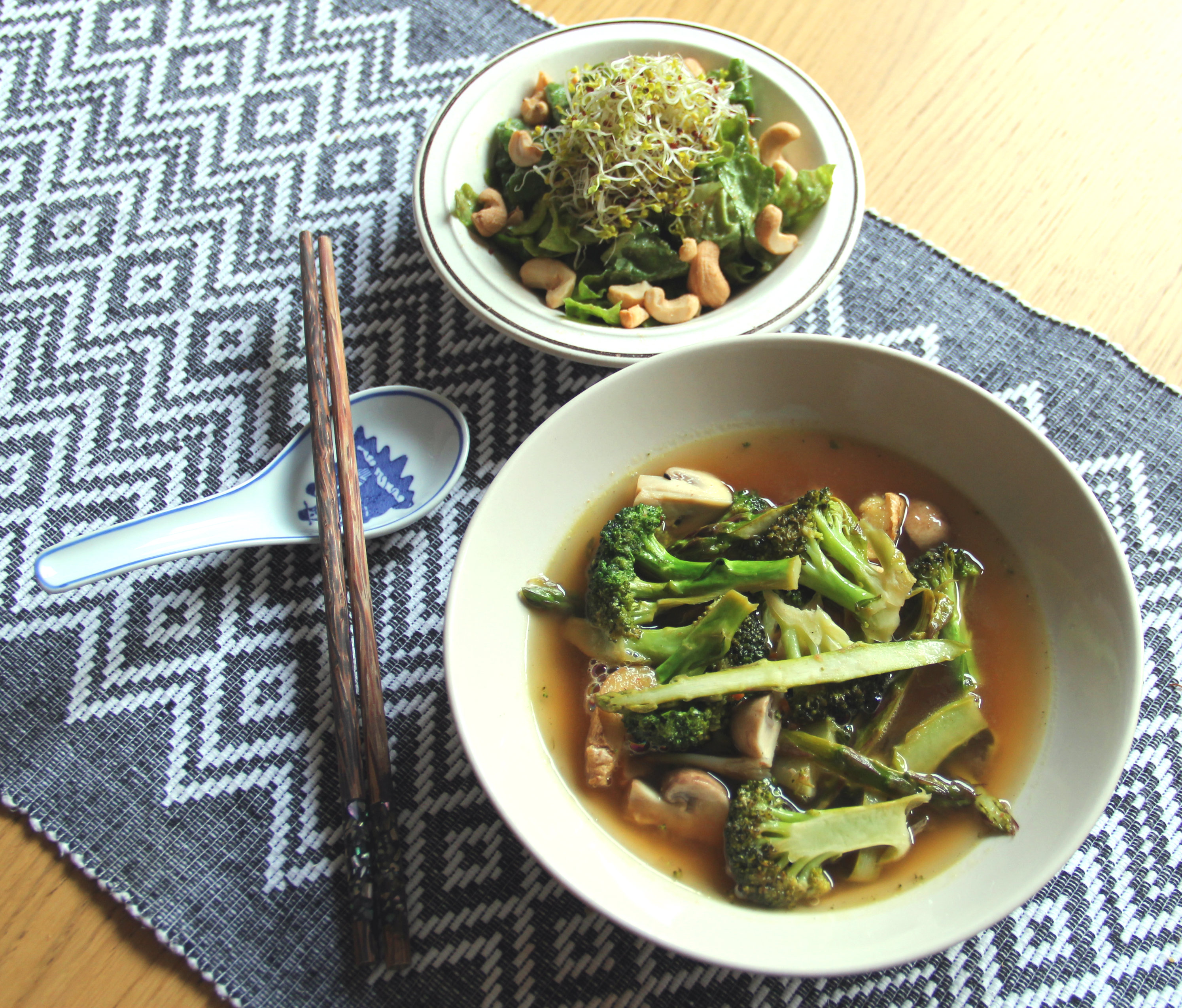 Served here with green salad with tahini and sesame seed oil dressing