If you feel LOST… lonely… frustrated… uncertain… unconfident… on your LIFE PATH and/or PURPOSE…
Or if you want to UPGRADE or TRANSITION onto the next phase…
If you're trying to get to the LIFE OF YOUR DREAMS…
Or trying to UNLOCK OR REMEMBER YOUR HUMAN & SPIRIT's TECHNOLOGIES…
The LOTUS UPGRADE PROGRAMME is just the course that can ASSIST THIS EVOLUTION.
?
? Register at http://bit.ly/2rH24nM
?
?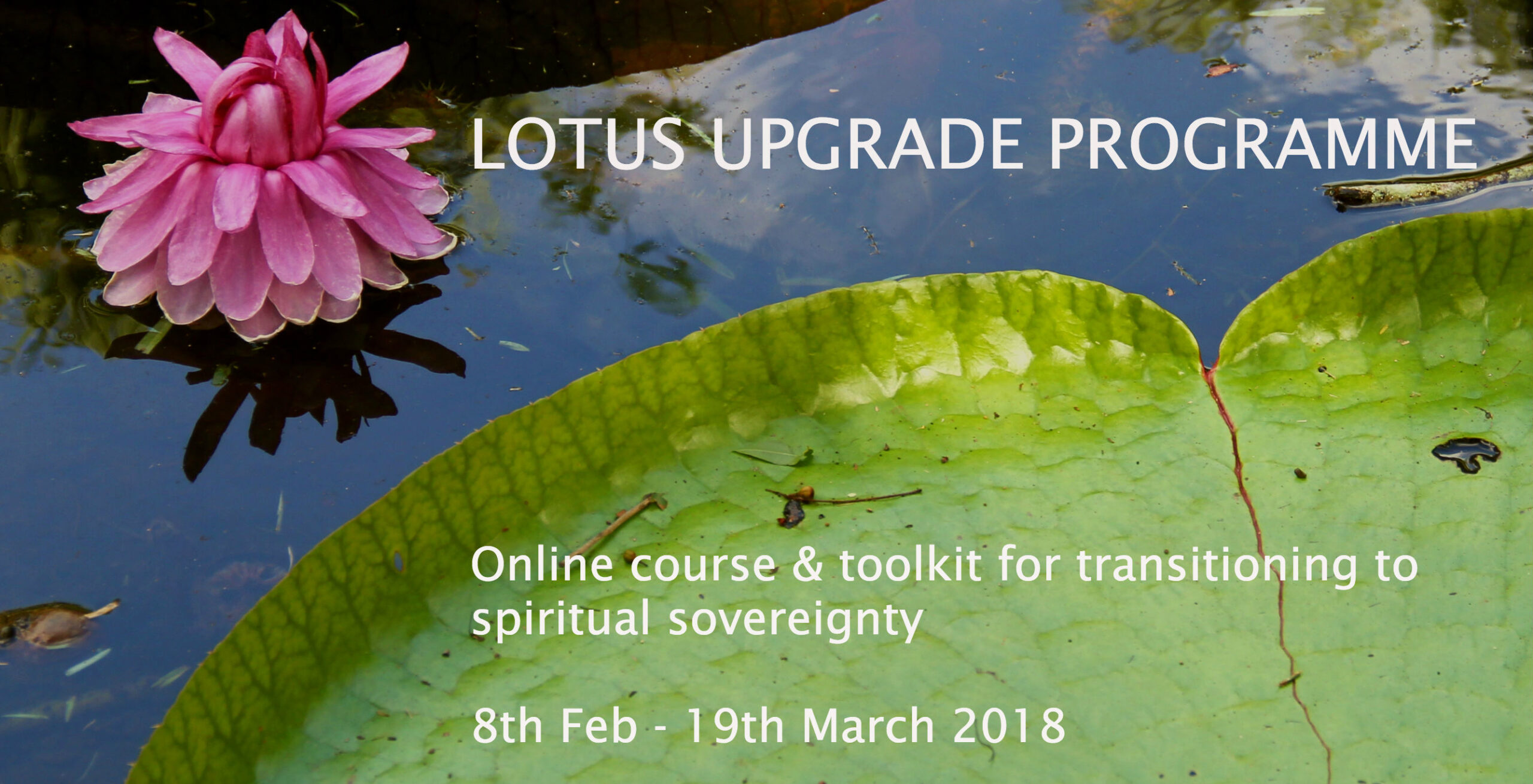 We've dreamt into existence a TRANSFORMATIONAL & HOLISTIC online 40 day online course starting Feb 8th 2018 that EMBODIES our knowledge, experience and practice… It's affordable, at £44, immersive and very well resources with 13 videos, handouts, exercises, reading lists and forums… Content covers indigenous wisdom, consciousness, natural law, inner alchemy and technology activation, good and nutrition sovereignty, emotional self-care, working with challenges, finding our role, understanding conditioning and SO MUCH MORE! Check out my video about it below!
https://www.facebook.com/natasha.boojihawon/videos/10156007379421228/
February 8th to March 19th – Online Course
You may have seen the video's my amazing sisters Vicky Guarani-Kaiowá Sinclair & Jyoti Imix shared this week about this incredible programme (if not link in comments below), so here's more info…
We have developed an immersive TRANSFORMATIONAL ONLINE COURSE that EMBODIES the principles and practices of SPIRITUAL SOVEREIGNTY so that you can STEP INTO WHO YOU REALLY ARE with ease and confidence! This course is for those wanting to CLEAR THE DEBRIS AND GUNK hanging around, SPREAD THIER WINGS and move forward with INTEGRITY.
You'll receive 13 in depth, experiential "lessons" in video format to support your transformation into EMBODIMENT containint the following topics…
*An overview of the Galactic Mayan calendar and how to become aligned with Natural Law and Time
*Business advice
*Tribal wisdom
*Life coaching tips
*Natural Law fundamentals
*Moving from mind to Heart
*Flowing in the unknown and being receptive
*How to BE a real human and enter into Divine Free Will and spiritual sovereignty
*Blockage and trauma release
*Inner alchemy
*Tips on how to become closer to nature utilising indigenous wisdom
*Food sovereignty
*Abundance upgrading and re-patterning
*Breathing/pranayama techniques
*Understanding the chakras and kundalini
*Looking at birth and death conditioning, epigenetics
*Mindfulness tools
*EFT – emotional freedom technique
*IFS – Internal Family Systems
*Explanations of consciousness and morphic fields
*How to leave lone wolf status and enter into tribal unified fields of consciousness
*How to navigate reality shifts and kundalini awakening
*Decolonisation techniques
*Signposting to physical peer groups
*Chunky up to date reading lists to deepen the immersion
OMG IS THIS CHUNKY AND EPIC OR WHAT?!?
The energy exchange for all of that (and so much MORE!!) is 44 pounds. This programme is about EMPOWERMENT, at the end of our journey you will have a toolkit FULL of conscious expansion techniques to support you to STEP IN and STEP UP, creating the lasting change needed to BEAM IN ~ we've got all bases covered with our expertise!
?
? Register at http://bit.ly/2rH24nM
?
? 
All our love, Natasha, Jyoti & Vicky