Some of you joined in the 33 Day Blossoming Kundalini Sadhana Initiation with us on Monday, which was such a cleansing and connecting gathering… We cannot emphasise enough just how POWERFUL it is to practice together in a constellation like this… The energy we generate is not just for our own healing, but for the collective. It's an act of service and kindness to humanity. Wow! To be gathering at this time and sharing this love is profound, please do not underestimate it.
Are you updating your software and hardware? This is done through energy practices. Yes, we may not have had anyone to teach us these techniques in the past – and it's forced us to shut down – but we can see this now – and we can do something about it.
This personal culture is so important. We must design our day intelligently, keeping our physical, emotional and energetic welling in check – to harness this localised system and tech (the human body). The time we are living in is so quick, we must be vigilant. To nurture our inner being to cultivate our energy systems and our inner worlds. To develop staying power and deserving power. To keep ourself manifesting the most favourable timeline of the highest and greatest good.
Here is the video recording for the 33 Day Blossoming Kundalini Sadhana. Please join us! Many of us are following this sadhana every day.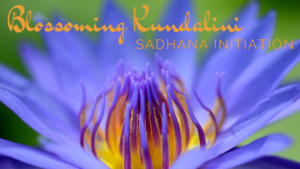 W H O   E L S E   I S   J O I N I N G ?
We have a space on our Telegram Channel for those of you joining the sadhana to share your experiences, explore and uplift one another. Please please visit and leave some comments. 
I am on day three of the sadhana and it's moving things through… I am feeling super excited and joyous, and in a state of gratitude for this life experience. I am also so grateful for you, as always divine Ones.